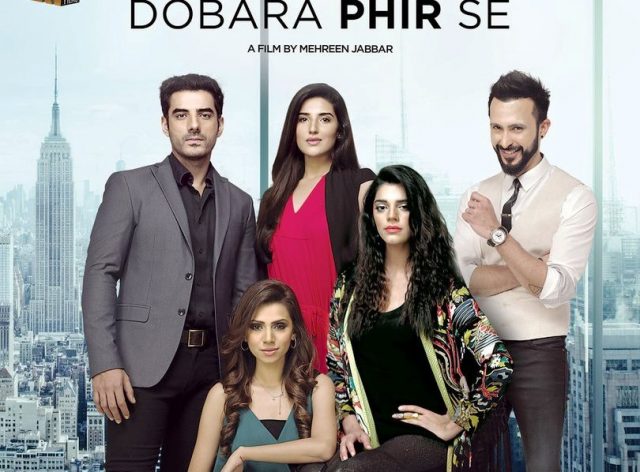 Pretentious story about the flawlessness and hitches of modern-day love and relationships, Dobara Phir Se . Way different from the kind of films being produced in the local industry right now. Although a simple track but with a powerful script, and fulfilled with collaborative cast. The proceedings of Dobara Phir Se follow this rather expected pattern, and by the end of it, it's fairly easy to recap the film in easy lines. But doing so is discharging all the little twists in the tale that are so well interlaced in the story that they don't really call attention to themselves. The film was released on 25 November 2016.
Dobara Phir Se is being stood as a film that is intoxicating enough to change the background of Pakistani cinema. Snobbish young people dealing with heartbreak, lonesomeness and modern-day torment is being allocated with for the first time in an Urdu feature. Kits you must know is it's the work of Mehreen Jabbar, who's known for her levelheaded voice in cinema. Film's story circles around a character of a divorced Pakistani woman based in New York who visits chic Connecticut suburb to visit her alienated ex-mother-in-law a very famous actress Atiqa Odho ( Maa jee). Written by Bilal Sami and staring some famous and lovable names of Pakistani industry Hareem Farooq, Ali Kazmi, Shaz Khan and Adeel Hussain.
"The beauty of this slice-of-life film is that it's a simple story that will connect with you and me. It will tug at your heart strings. Set in New Yok, you will begin identifying with the problems and angst of each and every character," said actress Sanam Saeed, who is playing role of an established young woman Samar, in Dobara Phir Se.I intensely believe that a good film is one that you would pay to watch again, so is the case of this film. It sure is a film on contemporary format for Pakistan film industry. This film doesn't target the systematic local cinema-going audience but still manages to succeed at defining the 'Pakistani urban cool' in its true soul. In this case some will love it and others won't pest watching it.
Speaking from a Pakistani perspective, Dobara Phir Se as a whole accents on problems of the rich and well-off people of a society that actually has the chance to overthink and concentration too much on the thinking aspects of their lives. We, as an audience, don't get that chance very often and even if we do, we prefer not paying for it and that is why the film will not deliver the numbers, at least in Pakistan, where the poor man is a substantial provider to the box office.
Dobara Phir Se, is a feel decent kind of movie. Though, at a few places I thought the story was hauled a little or had a few script weaknesses or was a little predicable. BUT overall a good movie. A breath of fresh air for Pakistani Cinema and being Pakistani, I am very proud of this effort!
Make your life easy by getting movies and events tickets online. Download our mobile app for iOS & Android.