After their charming performance and on-screen chemistry in Ho Mann Jahan, renowned actors Mahira Khan and Sheheryar Munawar are hitting the silver screen again in the upcoming film 7 Din Mohabbat In. It's exciting millions of fans around the globe mainly because they look incredibly amazing together and there's no doubt that they'll amaze us with their acting in this film as well. The film will release its second look on Friday and we got a feeling that this film will come with just as much promotions as the industry can give it.
Sheheryar Munawar will be playing the role of Tipu in the film alongside the leading lady Neeli played by the stunning Mahira Khan. The posters have been unveiled all around social media and fans cannot wait for the film to surface in the theaters.
The film's star-studded cast also includes Javed Sheikh, Hina Dilpazeer, Amna Ilyas, Mira Sethi, Aamir Qureshi, Adnan Shah Tipu and Beo Zafar who will be acting alongside the two actors and the theme will be a rom-com movie. The movie is directed by Meenu Gaur and Farjad Nabi, and will hit theatres this Eid-ul-Fitr. Holidays are just about to get more fun and just to show you the first look of the film, here are the posters:
Earlier in the month, the film had also released its first poster which showed Sheheryar as Tipu, donned in geeky attire holding a magnifying glass, in search of true love in the bustling metropolis of Karachi.
Mahira Khan's Instagram shows the 33-year-old actress playing the role of Neeli who is a delightful and frivolous girl. Fans will be able to see Mahira is the polar opposite of the character she played in Verna.
We are just as excited as our fans because we get to witness the amazing chemistry of the couple onscreen once more just like their appearence in Coke's TVCs and the film Ho Mann Jahan. However, this time they plan to exceed their fan's expectations in completely different characters and the promise is that it's going to be equally amazing.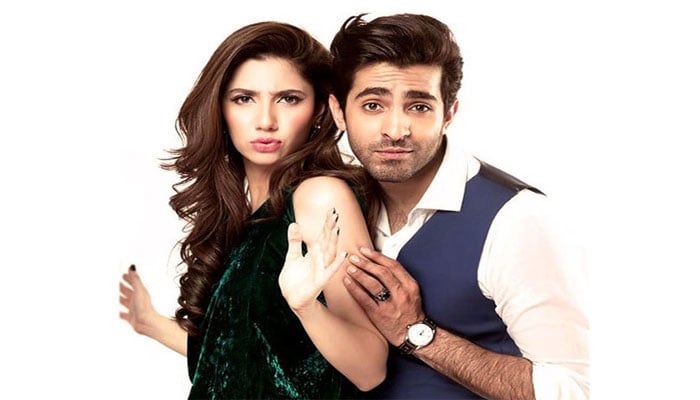 The two characters, Neeli and Tipu will be shown as best friends. While Neeli is an affectionate, spiritful girl who lives in her own world of fairytail, Tipu will act as her cousin.
This romantic comedy will aim this film to be genre-defying, heartwarming inner-city fairy tale aims to enthrall audiences everywhere. We can't wait!
Make your life easy by getting movies and events tickets online. Download our mobile app for iOS & Android.